Spotlight on:
The Milk Maid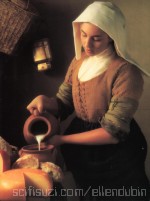 Click on image above

Bull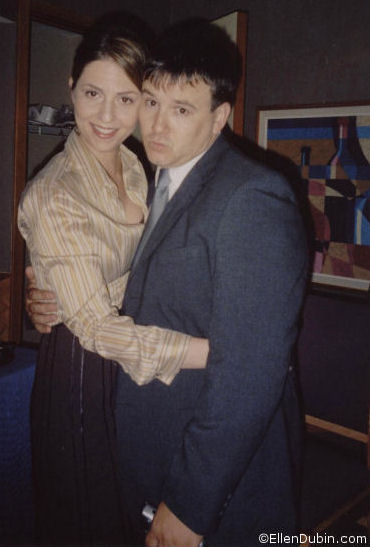 Ellen and Craig Lauzon on the set of "BULL."
Ellen filmed "Bull" in Toronto, Ont. Bull is a darkly comic murder-mystery taking place in the heatwave-baked skyscraper canyons of the Toronto financial district, about a hapless stockbroker who gets caught up in a twisty web where no one, absolutely no one, is telling the truth.
It stars Craig Lauzon from the Royal Canadian Air Farce, Maury Chaykin (Dances with Wolves) and Ellen Dubin. Ellen plays "Dr. Piri", a psychiatrist, who treats Craig Lauzon's character for depression.

First Wave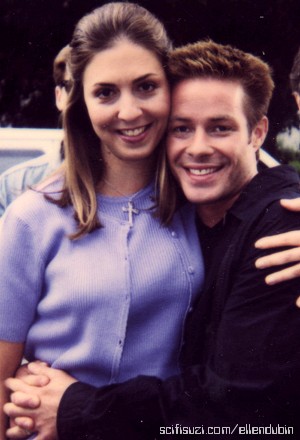 Ellen as Sarah Washburne with show star Sebastian Spence as Cade Foster in the scifi series "First Wave."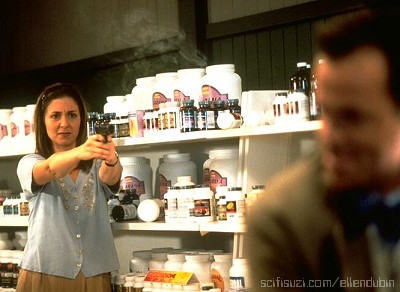 Ellen as Sarah in the climactic scene of ELIXIR in "First Wave."

Hank Williams – First Nation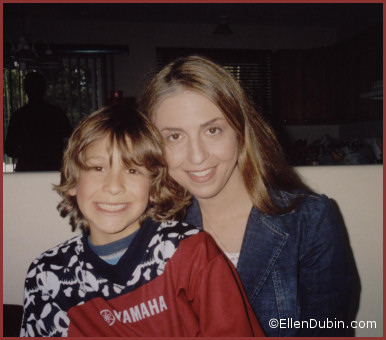 Ellen Dubin with Scott Pearson, who plays her son in Hank Williams – First Nation
Hank Williams First Nation – The Series continues the stories first brought to life in AARON JAMES SORENSEN'S critically acclaimed 2005 feature film 'HANK WILLIAMS FIRST NATION."
The half-hour series is a collection of stories capturing the unique charms, the character, and the quirky humour of Wapahoo – a fictitious remote Cree community. The whimsical and unique life-affirming culture of the Cree is at the very center of these stories as the people in them go through the daily trials and tribulations of their lives. Through it all, the show covers universal themes known to all audiences regarding lessons learned, experiences gained, and hearts swelled and mended.
The show premiered in Canada on APTN at 7:00 pm , Saturday November 18, 2006 with a repeat broadcast at 2:00 pm on Sunday November 19, 2006.
Ellen Dubin plays a young school teacher, Amanda Jenkings, who moved with her son to a Native Cree community. She has to learn to adjust to a whole new way of life as well as as start dating again.
Ellen is in the following episodes – DUELING HOTTIES and  BEAR IN MY HAIR (Episodes Two and Four)
Links for Hank Williams – First Nation:
Official Website
IMDb

Lost and Found
Ellen in this wonderful short film, finished Nov. 25, 2007.It is a lovely tale of fate and love, shot in Toronto.
Ellen says, "It was mostly shot outdoors in the bitter cold, but I had a great time!"
A cast photo of the BRAVOFACT short film LOST AND FOUND.
Ellen Dubin as Lise
Marcello Cabezas as Andy (kneeling)
Michael Kennedy, Director (in red parka)
Phil Williams as Pete (with moustache)
Melissa Jane Shaw as Beth (with purple hat- red head)
Alex Mcnally, writer (blonde gal)
James Zaza, Taxi Driver (green cap)
Press Release: "Toronto, Ontario – macIDeas in association with Seventh Stage Productions and Magnetic Film & Digital have pulled together an incredible creative and technical team to shoot the Bravo!FACT funded short Lost & Found on the infamous 'Red Camera' (www.red.com); the world's latest and most exciting development in film technology.
When an engagement ring is lost and subsequently found, three lives are connected: Andy, an emotionally raw young man; Beth, the girl who broke his heart; and Lise, a cynic who doubts that she will ever find love. Deeply affected after she witnesses the accidental reunion of Andy and Beth, Lise considers the idea of fate for the first time. Pete, the wacky Lost & Found manager, throws some humour and wisdom into the mix.
Marcello Cabezas, Producer and brain-child behind the project, has been gathering this troupe for over a year. "The process began with an idea I'd had about the stories behind the items of a Lost & Found. I was in LA at the time and presented the idea to writer Alex McNally (Disney and Warner Bros Writer's Workshops), and she brought the spark to life amazingly. From there I began pulling the team together."
Director is multi-Gemini nominated Michael Kennedy. Starring is Gemini nominated Ellen Dubin (series regular Leo award-winning The Collector, cult Sundance hit Napoleon Dynamite, Blood Ties, Dead Zone and a recurring role on LEXX), Marcello Cabezas (Leo and Choke award-winning Bravo!FACT's and This Is Our Youth directed by Woody Harrelson), Philip Williams (Welcome to Mooseport) and Melissa-Jane Shaw (feature Triumph of Dingus McGraw, Bravo!FACT Grocery Mishap, and Canadian Premiere of Anthony Minghella'a play Whale Music).

Mutant X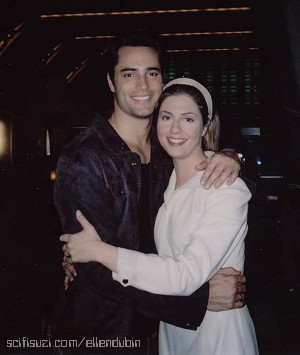 Victor Webster, with Ellen Dubin, on the set of Mutant X.

Relic Hunter


Ellen as British heiress Jacqueline Reed in "Relic Hunter."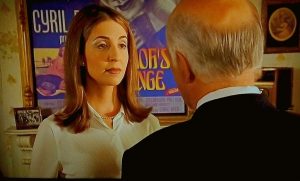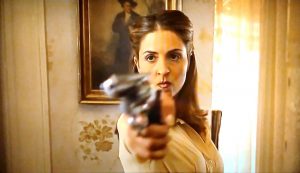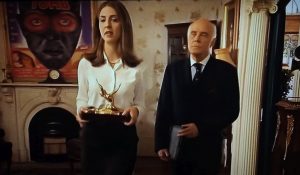 Secret Service

Ellen Dubin as Raven a stripper/con artist in Secret Service.

Ellen as Raven the stripper/con artist in a suit disguise. She played nine different roles on Secret Service for NBC.

Strange Days at Blake Holsey High (USA) aka Black Hole Hole (Canada)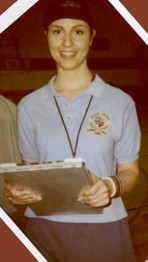 Ellen as Coach Carson
Ellen has finished shooting in Hamilton, Ontario her first episode of Black Hole High and it is called "Equation" Ep. # 2.9. She plays Coach Carson, the basketball coach of the girl's team for this kids, Sci-Fi series. Subject to availability, Ellen will be recurring. The show airs on NBC in the States.

The New Addams Family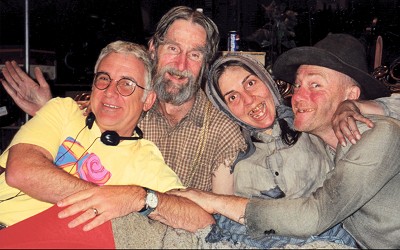 This is a comedic picture of Ellen as hillbilly Ma McAddams
(black tooth and all) with her cast and director in the "New Addams Family."

The Resolve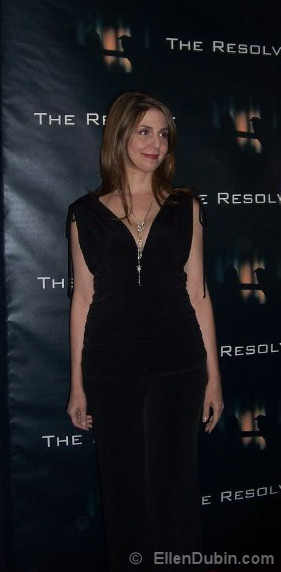 Ellen at The Resolve premiere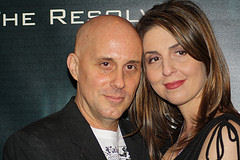 Ellen Dubin and lead actor/writer/producer/director Russ Cootey at The Resolve premiere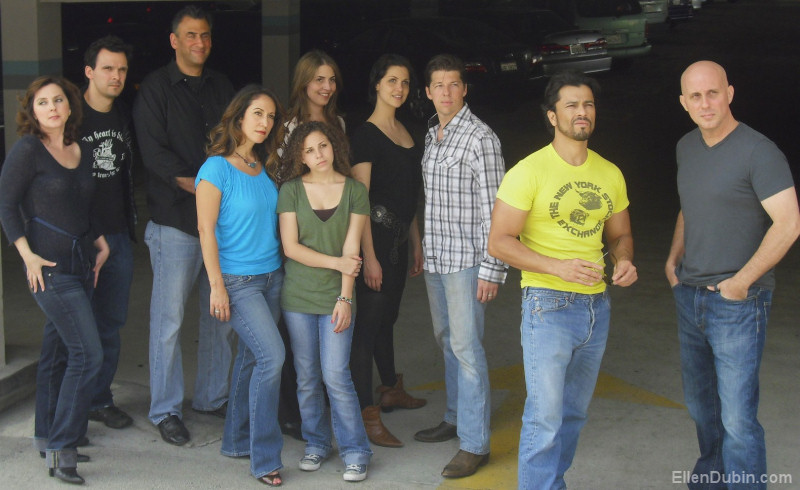 The cast of The Resolve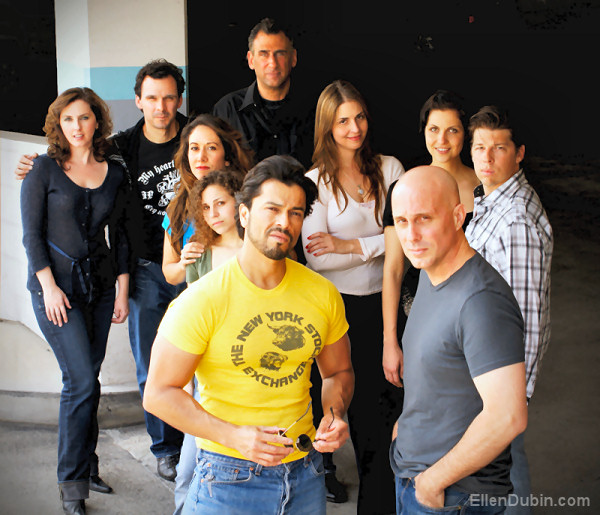 The Resolve cast photograph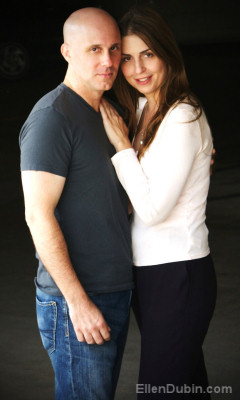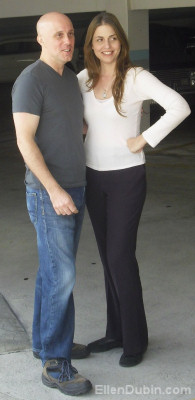 Russ Cootey and Ellen Dubin

Tunnel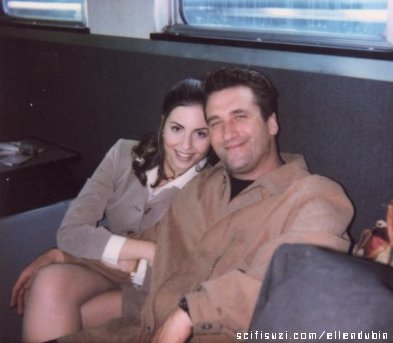 A candid shot from the movie, " Tunnel" directed by and starring Daniel Baldwin. Ellen played Megan, the lawyer.  The film was shot on a train.

Another candid shot  from the movie, " Tunnel." Ellen as Megan, the lawyer,
pictured with Kim Coates, as Geary, her client.

Tracker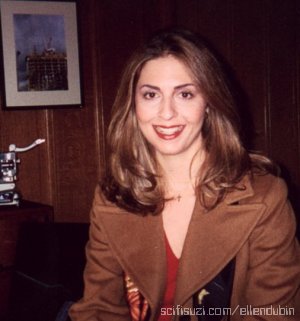 Ellen Dubin as Abbie in Tracker starring Adrian Paul.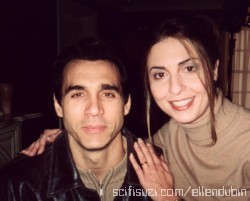 Highlander's Adrian Paul as Cole and Ellen Dubin as Abbie in Tracker.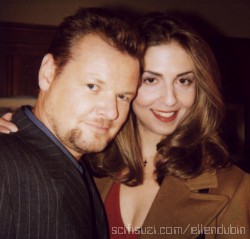 Geraint Wyn Davies (FOREVER KNIGHT) as Zin, pictured with Ellen in Tracker.